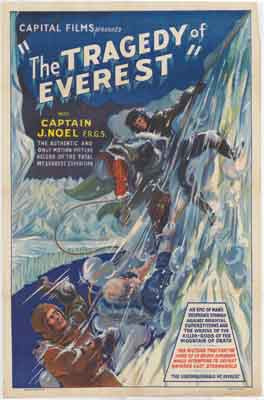 The Tragedy of Everest film poster
Capital films presents "The Tragedy of Everest" with Captain J. Noel F.R.G.S. The authentic and only motion picture record of the fatal Mt. Everest Expedition.
An epic of man's desperate struggle against oriental superstitions and the wraths of the killer-gods of the mountain of death. 
The picture that cost the lives of 13 brave explorers while attempting to defeat natures last stronghold.

The unconquerable Mt. Everest.
Event: Mount Everest Expedition 1924