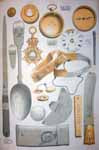 Items used on Franklin Search
Naval Button. Cap plate of chronometer, brass. Chronometer case, silver gilt. Crest of silver table spoon. Brass compass. [Knife engraved "Young"]. Crest of silver folk. [Spoon engraved "Spero Meliora"]. Order of the Bath. Crest on silver table spoon. Chronometer face. Crest on silver folk. Silver pencil case. Gold band from officers cap repaired with a piece of skin. Two brass buttons. Eye glass of telescope. Silver "Sir John Franklin". R. Timmins & Sons cast steel. Bone handle. Horn handled knife, copper rivets. Tin case.
From "A series of fourteen sketches made during the voyage up Wellington channel in search of Sir John Franklin ... with a short account of each drawing" by Commander Walter W. May (London : Day and Son,1855).
Ref.: K233915