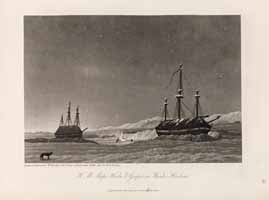 H.M. Ships Hecla & Griper in Winter Harbour
Drawn and engraved by W. Westall from a sketch made on the spot by Lieut. Beechey.
From "Journal of a voyage for the discovery of a north-west passage from the Atlantic to the Pacific, performed in 1819-20 in H.M. ships "Hecla" and "Griper"; with an appendix containing the scientific and other observations" by Sir William Edward Parry (London, 1821).
Ref.: rgs328912